So...I had a post all ready to go about different odds and ends that I
ALWAYS
tend to forget once I sit down to write these things, but the events of tonight, shall we say, amended the conversation? I've been saying since opening night (an entire 3 nights ago haha)...1 game, long season...but clearly we could have dedicated
TWO
posts to the history that almost took place earlier tonight.
However, in the spirit of my new philosophy I'll try and write the post I originally intended. Haha. Well, the quandary the Rangers were facing (or maybe it was just us?) regarding their opening day starter this year got me thinking about the presence of an "Ace" pitcher for this Rangers team not just this year, but in the not too distant past. When baseball fans think "Ace" in this day and age we immediately invoke names like: Justin Verlander, Felix Hernandez, Roy Halladay, Clayton Kershaw, Tim Lincecum, R.A. Dickey???? (whom the Rangers drafted grrr haha)* and so on and so on...
*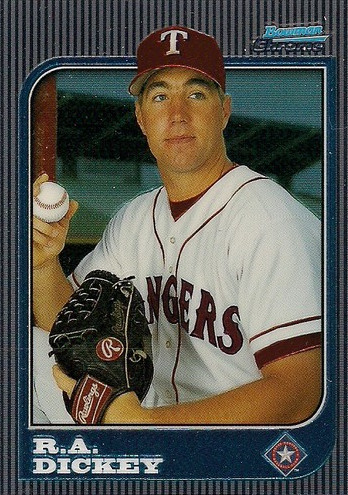 October 12, 2010 at Tropicana Field comes to mind...
These are your
no-brainer
opening day starters. If we arbitrarily choose the year 2000 and examine the Rangers' opening day starters (not necessarily their "Ace") here's what you'll find:
2013
Harrison
2012
Lewis
2011
Wilson
2010
Feldman
2009
Millwood
2008
Millwood
2007
Millwood
2006
Millwood
2005
Drese
2004
Rogers
2003
Valdez
2002
Park
2001
Helling
2000
Rogers
Not all that impressive, huh? There's plenty to snicker at here. Scott Feldman? Really? I'll go you one better and tell you that game 2 that year was started by Rich Harden. What a 1-2 punch, I tell ya. This was the year we went to the World Series too, people! So by no means are you bound by these opening day starters. If anything it illustrates my point about the Rangers. Ryan Drese? Ismael Valdez? Chan Ho freakin' Park? You're killing me here, but lets move on.
Rick Helling was a great contributor (occasionally) to the mid-to-late 90s Ranger teams. Kenny Rogers was as well, even beyond the 90s. Kenny Rogers is a bit of a conundrum for me though. Different rapid fire images come to mind when I think of him. He owns one of the greatest moments in Rangers history...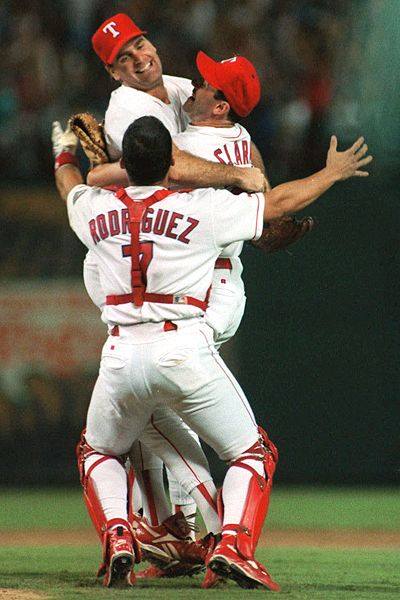 He then leaves for the Yankees for a couple of seasons and wins a ring, but never even makes a postseason roster if I'm not mistaken. He comes BACK to the Rangers in 2000 and does this in 2005...
He left again in 2006 (not surprisingly after the above incident) for Detroit, had some success, pitched in the World Series, blah blah blah...
Kevin Millwood was a solid, workhorse, innings guy for the Rangers as I've previously described. Lets be honest though. Baseball fans remember Kevin Millwood for being that one Braves starter NOT named
Greg Maddux
,
John Smoltz
or
Tom Glavine
. His 2005 AL ERA champion campaign was all the Rangers needed to see to feel they had finally found their "Ace". This wasn't the case either as I've also previously described. There's also another guy in there I haven't mentioned. C.J. something? Anyway...
Now if we weren't arbitrarily starting with the year 2000 you'd find a couple of real no-names like these...
I suppose my point is that it's impossible to say we don't need an "Ace" or that we've gotten along just fine without one. That was the entire reason we ran out and got Cliff Lee after all. I'll even admit if we had 'that guy' we may have won one or both World Series we played in (even though we had 'that guy' in 2010 with Lee, he laid an egg in both his WS starts).
Either way I feel like there is an "Ace" or someone with "Ace"-like stuff somewhere in the mix here. After one start (which doesn't tell you much), for what it's worth, I don't feel that guy is Matt Harrison. No disrespect to Matty. I promise you he's here somewhere. He just has to rise to the occasion when it counts...
I could actually write a similar post about our closer situation over the years, but I won't. You get the point. The Rangers have never been known for their pitching.
Finally, a nugget I forgot to add to my Rangers/Astros post. If tonight had gone as we all hoped, it would have eclipsed perhaps what is my favorite Rangers/Astros moment. A catch you have to see (if you haven't already) to believe. Maybe even the greatest catch I've
EVER
seen. A shot for shot recreation doesn't even do it justice. That's about all GMJ contributed to us. Haha...
http://mlb.mlb.com/video/play.jsp?content_id=13118995&topic_id=&c_id=mlb&tcid=vpp_copy_13118995&v=3
Not the best post, I know. That game kind of took the wind out of my sails. Notice my code of silence on its events. I can't even bring myself to say it
AFTER
that fact! Learn that lesson, folks. Oh well. Rubber game tomorrow and I'll be there in person (for which I'm ALWAYS potentially a jinx, another post waiting to happen).
In conclusion, aren't yall glad baseball is back? Now I'm thinking I found a new rally cry to make myself feel better (even after a dominant shut-out win? Really? haha)...
1 game...
Long season...