Yeah, I'm talking to you, Popp
Your favorite team is going to give you the occasional clunker in the NBA and if you're lucky enough to be in the Eastern Conference you don't even need to have a winning record or even an impressive record to make it to the playoffs!
What about baseball? After all, as you well know, we're talking about 6 months and 162(+? haha) games. These guys are playing practically every night. Sure some nights you'll have an extra inning game followed by a day game where you might unofficially wave the white flag. That's mostly just due to fatigue though. Or you're taking a 10 run beating in the 4th so you cut your losses and save your bullpen and just take your medicine by sending your long man out there just hoping he gets you to the next night. That's baseball...
It's tough to say that every game counts in the MLB because apparently only the All-Star game counts. Blah. Take a look at the Rangers record of 4-5 right now. Subtract two ninth inning rallies last week and our record looks plenty uglier at 2-7. Again, small sample size. I have a fraternity brother (OPhi!) by the name of Rock that loves to tell me that if the Rangers had just beaten the Astros on opening day last year we would have made the playoffs in 2013. It's true in a ridiculous way. I have, after all, been celebrating the Astros futility on his Facebook timeline for 4 years or so now. So, I humor him. Haha...
This guy here...
Actually you could play that game all day if you really wanted to.You can look back at last season and point out blown saves, big leads that were lost or even the reverse...games you should have lost, crazy comebacks, walk-offs etc. It tends to even out over 162. Sure Joe Nathan blowing a crucial save at Tampa Bay back on September 18, 2013 stands out. As an indirect result, the Rangers had to rally to win 7 straight just to force game 163...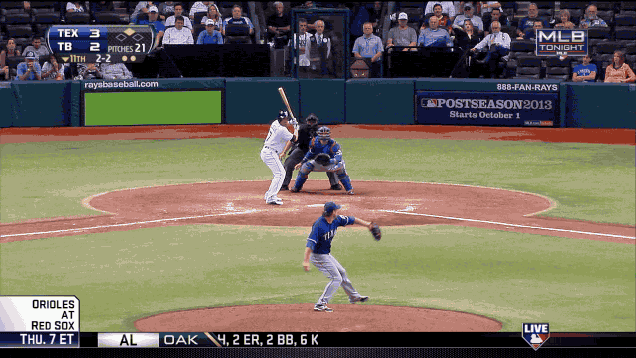 Back to these Rangers though, the patchwork starting rotation has struggled, not surprisingly. We also seem to be trailing 1-0 or 2-0 in every single damn game. The lead-off hitter in every damn inning seems to get on. To say that there has been a prodigious amount of base-runners early on would be an understatement. Specifically, Tanner Scheppers had one bad and one shaky start for an 0-1 record and a 9.00 ERA. Our #4 starter Joe Saunders was predictably terrible. Once we actually saw Saunders on the mound I'm sure Wash was thinking what we all were...
He has since been placed on the 15 day DL with an ankle injury. What few bright spots we've had are Martin Perez' 2 starts with a 1-0 record and a deceptively high 4.50 ERA, Robbie Ross with a 1.74 ERA after 2 starts though not pitching through 6 in either start, and actually for at least one start, the youngster Nick Martinez. Perez and Martinez were the only 2 pitchers that have gone 6 innings other than our Ace whom we welcomed back last Sunday afternoon with open arms...
Our bullpen has actually really struggled as they sit currently with a collective 5.81 ERA. Six Rangers relief pitchers currently own 6+ ERAs. It's safe to speculate that with a healthy starting rotation this probably wouldn't be the case since presumably Scheppers and Ross would still be in the bullpen. I think you have to say that's where you'd prefer them to be at his point. What if we had Tanner ready to go in the bottom of the 8th against the Red Sox on Wednesday instead of sending out Ogando for another inning? What if Tanner goes out for the 8th at Tampa on Saturday? Assuming he'd still be his 2013 self, maybe we win both games. At least a shot. Besides, the bullpen has really been a stronghold for the really good Rangers teams we've seen in recent years....
What we kept telling ourselves after the injuries started piling up was that at least we had plenty of options and available arms. We just had to get by. Well, help certainly appears to be on the way soon with
Matt Harrison progressing
and Saunders' injury opening the door for an improving
Colby Lewis
...the greatest pitcher in Rangers postseason history...
Which brings me to Derek Holland. I was watching him do his usual clown routine on Rangers Insider last weekend: answering ridiculous questions (because it's Derek Holland) with ridiculous answers (because he's Derek Holland), twitter questions about his
dog
, and teasing Emily Jones. Now I fully understand that we tend to crucify athletes when they speak their mind or are TOO truthful/real...
Practice!?
We want them to live and breathe the sport and say all the right things AND live their personal lives the way we want them to. I accept all of this, but Derek Holland doesn't really fall into any of these categories. I know he has plenty of time on his hands right now and he's made a concerted effort to tone down his quirky personality, but I mean you all remember this...
...and this...
Just pitch, Derek. Seriously. Me, you, Wash or someone needs to tell him...
Haha. Having said all that, I still told Jenn I'm ridiculously close to being done with Holland altogether. We both agreed he needs to get punched in the face. That would probably help matters...
SHUT.THE.FUCK.UP!!!
We do need him, for sure. Last season he always seemed to be the one to break a losing streak or get us a win we absolutely needed. All you need to do is focus, Derek. Bottom line...
The pitching isn't all too blame early on though. Remember when I said the Rangers have shifted focus to pitching and defense in recent years? Well you wouldn't know it by looking at the team this year. They're currently dead last in the AL in fielding with 11 errors. They also somehow committed 6 errors in the span of 3 days...
Prince Fielder has been fielder in name only as he's had more errors (2) than HRs (0) in the young season. We knew what we were getting in him, though. It's not like he's known for his glove. Additionally, when you lose a player known for his defensive prowess like Ian Kinsler AND his replacement Jurickson Profar to injury, your defense is unlikely to improve. It hasn't all been bad though. They did turn 5 double plays to help Martin Perez get a win on Tuesday. They also turned 10 in the 3 games against the Red Sox which was 1 shy of the major league record for a 3 game series. So, there's that...
What about that Rangers offense that we for sure thought would be fixed for 2014? Well, that's actually been a mixed bag. Aside from a 10 run barrage on opening day and a 10 run explosion at Fenway Park this week you really have to say the offense is somewhat slumping on the whole when it comes to clutch hitting. They're still hitting .266 as a team with 38 runs, after all. The bottom of the order has actually done its part, although Leonys Martin is mired in a 2-18 slump after a hot start. Alex Rios has played stellar as of yet leading the Rangers in batting average, RBIs, hits, and is tied for the team lead in HRs (a whopping 1 haha). He also hit safely in each of the Rangers first 8 games...
I have to say, though, that when I'm watching games this year I can't wait to see our 1-5 hitters come to bat throughout the game and that's something I haven't been able to say since 2011 and 2012. So far Shin Soo Choo has been as advertised. He continues to live on base via walks; hitting for average while also hitting lefties. All told he has a .475 OBP right now i.e. everything you want from your leadoff man. Elvis Andrus is hitting .306 during his current 9 game hitting streak. He even went yard last Sunday afternoon to lock up a game for the Rangers, which has to be the earliest he's ever hit a HR in a season. Beltre is leading the team in doubles with 3 and has been his usual consistent, clutch self despite leaving Tuesday's game due to a quad issue. Lets cross our fingers there.
JD says we should hear something today.
Pesky injury bug, I tell you...
No, I haven't forgotten that big guy in the 3 hole. Prince Fielder has gotten off to a slow start to say the least. He's 2 for his last 21. He's hitting .162 with 3 RBIs. It's definitely too soon to panic on Prince, but you have to at least admit that this team would not be sitting at 4-5 if he had gotten off to a hot start this season. Is he pressing? That's tough to say. Are Elvis and Beltre benefiting from his mere presence? Yes. Until he gets it going this will be the narrative surrounding Prince. He may have to take some advice from Don Draper...
Or as a former
Hank Aaron award winner
, draw some inspiration from the 40th anniversary of 715
this week...
Maybe a pep talk from his estranged father?
Okay probably a negative on that last one. You would think that a team with Prince Fielder on it wouldn't be ranked next to last in the AL with 3 HRs. I'm sure that won't last. You might be asking yourself what our departed friends from the 2013 Rangers are up to. Did we give up on them too soon, etc. Well, Ian Kinsler is hitting .313 with a homer and 3 RBIs. David freakin' Murphy is swinging a hot bat in Cleveland hitting .320 with a homer and 6 RBIs. Nelly Cruz has also gotten off to a good start hitting .250 with 2 homers and 6 RBIs. As for Nelly's work in the field, you ask?
There's my older brother Cruz again this past weekend...
Not bad. Wait until their inevitable slumps though. Again, we'll be fine. The Rangers have also faced some pretty good pitching so far, not to mention an underachieving Phillies team, a good team in Tampa, and the defending World Series champions. Here's how the AL West stands today before Oakland's day game and Houston's finale at Toronto tonight...
AL West

Athletics

Mariners

Angels

Rangers

Astros
No real surprises early on except for maybe the Mariners. After a day off the Rangers will finally come back home for a 10 game homestand. All very winnable games. First up will be Rock's Astros for 3. Yu Darvish will face off against our old friend Scott Feldman who will show up at the Ballpark wielding an impressive 2-0 record and 0.66 ERA. Lest we forget about Yu's near perfect game AND near no-hitter both against the Astros last year. As for Feldman, that 17-win season was a statistical anomaly while he was pitching for us. Maybe he'll revert to that other Scott Feldman we know once he's on the bump in Arlington. Haha...
Send anyone! Just get this clown out of there...
The Astros should show some improvement this year, but lets be honest...if they were to lose 90-95 games that would be a vast improvement. The Rangers won 17 games against the Astros last season, their most against any single opponent in a season. They're a fairly dominant 36-7 against the Astros since 2009. So, yeah...
Next up will be those aforementioned surprise (I guess) Mariners for 4. We close out the homestand with the White Sox for 3. We'll have a better idea by then of what we're really looking at with this Rangers team. Especially since they'll go on the road for 6 against the hated A's and the M's again before coming back home to play the A's for another 3.
I don't need to remind you that we took care of business in our division in 2013 (53-23) and missed the playoffs, and not so much in the division in 2012 (27-30) and made the playoffs. Go figure. Either way, we really need to get the jump on the West with these 16 division games in April. Lets just try to run furiously through this month and the first half of the season like we have in seasons past...
All in all, there's PLENTY of baseball left to play. I'm definitely not backing off from any predictions or abandoning any optimism THIS early in the season, either. This is just what hardcore baseball fans do...like I said at the outset, we over-analyze. We also listen to people's questions such as: will the Rangers bats come to life? Will the rotation work itself out? Can we still make a run at it in the West? Will we return to the playoffs?
Haha. Maybe it's as simple as listening to Michael Young. He said it best...
Bring on the Astros!